THE BUDDHA
Image of birth place & brief information

Map of Lumbini
NEPAL
Overview of Nepal
Map & images
Nepalese websites
KAVITAHARU
View few of my poems
written in Nepali language
ARTICLES
Articles on
crime prevention
investigation
& crime control
COOL LINKS
Computer
Travel & Tour
Police World
Downloads
Personality Test
Nepal News
Crime & Police News
Nepali Music
Health
Horoscope
Monthly Poll
Other
JAVASCRIPT
As I have learned as a beginner
ADD EMAIL
Search or add email to the search list.
GUESTBOOK
View to find out what other visitors have to say about this web site.
KURAKANI
Are you interested to chat? Go to Kurakani room.
FREE E-CARDS
Enormous free E-Cards of your choice. Send it to your friend and family members.
FREE SITE SUBMIT
Submit your web site to the major search engines here.
ABOUT ME
Click here to find out about me and view few of my photographs.
The Buddha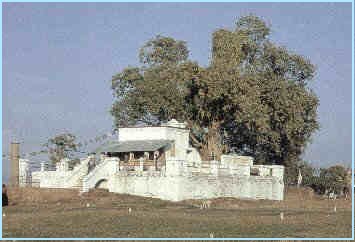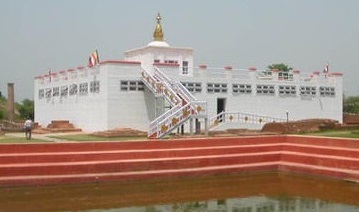 Maya Devi Temple in Lumbini, Nepal.(before & after rennovation)
marks the birth place of Siddhartha Gautam Buddha


Siddhartha Gautam was born in Lumbini, Nepal in 623 BC which is a sacred place to the 400 million Buddhists in the world. Maya Devi gave birth to Siddhartha Gautam under the groove of trees when she was on her way to her mother's house in Devadaha.

Son of King Suddhodhan, Siddhartha Gautam grew up at his palace at Taulihawa, about 24 kilometres from Lumbini. At the age of 29 he set his foot outside of the palace to find out about the poverty, hardship and suffering of the people.

Siddhartha Gautam abandoned the palace and spent the days meditating on life until, under a pipal tree at Gaya in India he attained the `Enlightenment' - The Buddha. The Buddha preached his doctrine for 45 years before attaining nirvana with his death at the age of 80.

In the centuries that have followed the Buddha's death, sectarian differences have emerged in Buddism, the Mayahana school of thoughts in India and Hinayana school of thoughts in southeast Asia and Sri Lanka.

The Indian Emperor, Ashoka erected Ashoka Pillar in Lumbini, Nepal in 249 BC, to mark his visit to the birth place of the Buddha.

Lumbini Project is underway and many Buddhist nations have built their own commemorative shrines to the Buddha in Lumbini.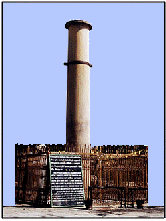 Stone Pillar erected by Emporer Ashok
in Lumbini, Nepal - 249 BC

The inscription which, in English translation, runs as follows: King Piyadasi (Ashoka), beloved of Gods, in the 20th year of the coronation, himself made a royal visit. Buddha Sakyamuni having been born here, a stone railing was built and a stone pillar erected in honour of Buddha. Because Buddha was born here, the village of Lumbini was freed from paying tax.
BUDDHIST BASIC
In his teaching Buddha expounded the Basic Doctrine of :

FOUR NOBLE TRUTHS

1. Suffering is universal and inevitable
2. Cause of suffering is the attachment to desire
3. Suffering ceases when attachment to desire ceases.
4. There is a way to dispel desire and releave suffering by practicing the Eightfold Path
EIGHTFOLD PATH

1. Right View 2. Right Thought 3. Right Speech 4. Right Action 5. Right Livelihood 6. Right Effort 7. Right Mindfulness 8. Right Contemplation