NEPAL
Overview of Nepal
Map & images
Travel Guide
Nepalese websites
KAVITAHARU
View few of my poems
written in Nepali language
Nepali Fonts

ARTICLES
Articles on
crime prevention
investigation
crime control and
Interview & Interrogation
COOL LINKS
Computer
Travel & Tour
Police World
Downloads
Personality Test
Nepal News
Crime & Police News
Nepali Music
Health
Horoscope
Monthly Poll
Other
JAVASCRIPT
As I have learned as a beginner
ADD EMAIL
Search or add email to the search list.
GUESTBOOK
View to find out what other visitors have to say about this web page.
ABOUT ME
Click here to find out about me and view few of my photographs.
Nepal is a land where lovers of nature may enjoy the unique Himalayan beauty. When it comes to the exotic, the unusual, the fascinating, the colorful, the exciting and the adventurous, nothing beats Nepal for the sheer variety of its attraction- from the world's highest mountains to the serene lowland beauty of the birthplace of The Buddha.

Manthan (Bulletin Board) : Post your question, comment or views on topics relating to Nepal...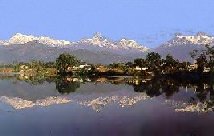 Map and Images : Maps and Images of Nepal including Kathmandu and Pokhara cities
Mountain Peaks in Nepal : Exotic view of himalayan range and list of mountain peaks.
Panoramic View of Kathmandu : Enjoy the panoramic view of Kathmandu valley.
Nepali Fonts : Download Kanchan, Preeti, Rukmini and other nepali fonts...
Video Clip of a Nepali Song : View and listen a Nepalese song and more
Travel Guide to Nepal :A travel guide to Nepal and maps featuring trekking regions.
Nepalese Websites : List of various Nepalese web sites including nepali music, news, recipes and more...