NEPAL
1. Overview of Nepal

2. Map & images of Nepal

- Larger Nepal map

- Map showing mountain peaks

- Map showing Administrative divisions

- Map showing Pradesh Divisions

- Map of Kathmandu Valley

- Map of Kathmandu City

- Map of Bhaktapur City

- Map of Lalitpur City

- Map of Pokhara City

3. Nepalese websites

4. Highest Mountain Peaks in Nepal

5. Panoramic View of Kathmandu Valley

6. Video Clip of a Nepali Song

7. Travel Guide to Nepal
KAVITAHARU
View few of my poems
written in Nepali language
ARTICLES
Articles on
crime prevention
investigation
& crime control
COOL LINKS
Computer
Travel & Tour
Police World
Downloads
Personality Test
Nepal News
Crime & Police News
Nepali Music
Health
Horoscope
Monthly Poll
Other
JAVASCRIPT
As I have learned as a beginner
ADD EMAIL
Search or add email to the search list.
GUESTBOOK
View to find out what other visitors have to say about this web site.
KURAKANI
Are you interested to chat? Go to Kurakani room.
FREE E-CARDS
Enormous free E-Cards of your choice. Send it to your friend and family members.
FREE SITE SUBMIT
Submit your web site to the major search engines here.
ABOUT ME
Click here to find out about me and view few of my photographs.



MAP OF NEPAL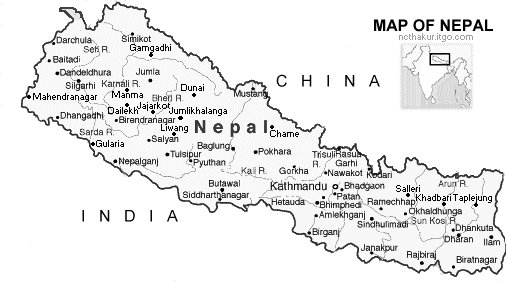 Nepal is a landlocked country situated in South Asia, between China in north and India in south, and contains Mount Everest and seven more of the world's top 10 highest mountains. Nepal is 885 km. (553 miles) from east to west with a non-uniform width of 193 km (120 miles) from north to south, and the area in total is 147,516 square km. Learn more about - Nepal.
Larger Map of Nepal

Free download - Nepal Map ( zip file 43 KB )
IMAGES OF NEPAL