NEPAL
1. Overview of Nepal

2. Map & images of Nepal

- Larger Nepal map

- Map showing mountain peaks

- Map showing administrative divisions

- Map of Kathmandu Valley

- Map of Kathmandu City

- Map of Bhaktapur City

- Map of Lalitpur City

- Map of Pokhara City

- Map of around Pokhara City

3. Nepalese websites

4. Highest Mountain Peaks in Nepal

5. Panoramic View of Kathmandu Valley

6. Video Clip of a Nepali Song

7. Travel Guide to Nepal
KAVITAHARU
View few of my poems
written in Nepali language
ARTICLES
Articles on
crime prevention
investigation
& crime control
COOL LINKS
Computer
Travel & Tour
Police World
Downloads
Personality Test
Nepal News
Crime & Police News
Nepali Music
Health
Horoscope
Monthly Poll
Other
JAVASCRIPT
As I have learned as a beginner
ADD EMAIL
Search or add email to the search list.
GUESTBOOK
View to find out what other visitors have to say about this web site.
KURAKANI
Are you interested to chat? Go to Kurakani room.
FREE E-CARDS
Enormous free E-Cards of your choice. Send it to your friend and family members.
FREE SITE SUBMIT
Submit your web site to the major search engines here.
ABOUT ME
Click here to find out about me and view few of my photographs.
Pokhara Sub Metropolitan City
Area : 55.66 sq km.
Population : 264,991 ( 2011)
Elevation : 941 meters (above 2700 ft.)
Temperature : min. 6° C and max. 31° C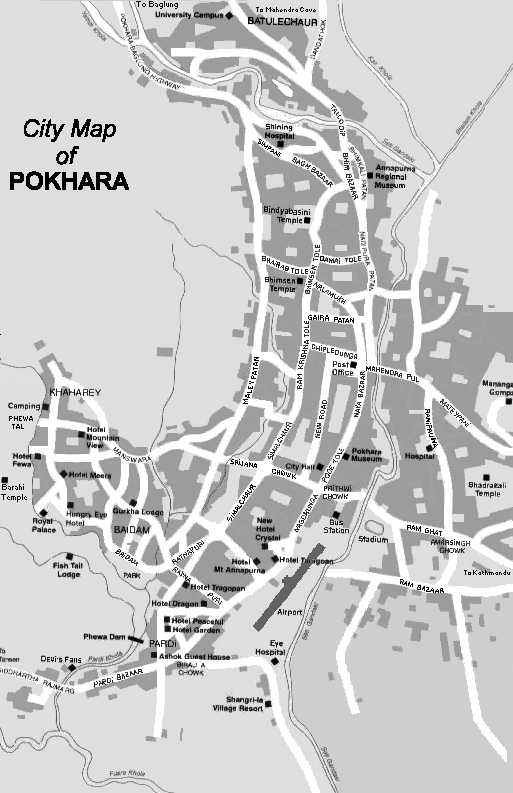 Pokhara

Situated at the lap of the panoramic Annapurna Himal, Pokhara is 198 kilometres west from Kathmandu. Pokhara is a rare combination of the long arrays of snowclad peaks, crystal clear lakes, turbulent rivers with deep gorges and picturesque villages inhabited by simple and friendly ethnic people.
There are plenty of places of tourist interest in and around Pokhara city, some of which are Phewa Tal, Begnas Tal, Rupa Tal, Devi's Fall, Mahendra Cave, Bindabasini Temple, Bhadrakali Temple, Barahi Temple, Annapurna Regional Museum, Buddhist Monestry, Tibetan Village, Sarangkot, Kahun Danda and Phoksing Danda. Pokhara is blessed with beauty seldom seen in one place in the Himalayas.