BHUTAN
GLIMPSES OF BHUTN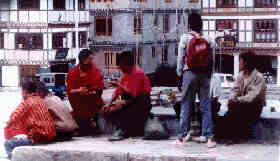 01 Day:
Arrival Paro and transfer to Kichu Resort.

Day 02:
Morning sightseeing of Paro Drukgyal Dzong ( ruined fort) and Ta Dzong(National museum). After lunch drive to Thimphu enroute visit Simtokha Dzong which house the school of Dzongkha (NationalLanguage). O/N in Hotel River View.

Day 03:
Full day sightseeing of Thimphu including the Memorial Chorten, Tashichhodzong, handicraft emporium, painting school, National Library. Evening drive back to Paro and O/N in Kichu Resort.

Day 04:
Transfer to Airport for departure to Kathmandu.


BHUTAN CULTURAL TOURS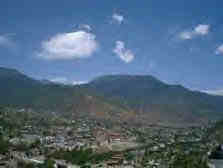 01 Day:
Arrival Paro and transfer to Kichu Resort.

Day 02:
Morning sightseeing of Paro Drukgyal Dzong ( ruined fort) and Ta Dzong(National museum). After lunch drive to Thimphu enroute visit Simtokha Dzong which house the school of Dzongkha (National Language). O/N in Hotel River View.

Day 03:
Morning sightseeing of Thimphu including the Memorial Chorten, Tashichhodzong, painting school, National Library. Evening drive to Wangdiphodrang via Dopchula Pass(3050m) and O/N in Kichu Resort, Wangdue.

Day 04:
S/seeing of Punakha dzong ,drive to Wangdiphodrang. After lunch drive back to Paro and check into Kichu Resort.

Day 05:
Transfer to Airport for departure to Kathmandu


BHUTAN EXTENSIVE Day 01:
Arrive Paro by Druk Air and transfer to Kichu Resort which is 10 Km from Airport. If time permit s/seeing.

Day 02:
Paro – sightseeing of Drukgyal Dzong the ruined fort, which once defended this valley from the Tibetan invasions. Drive back to Satsam chorten (10 min drive) and begin walk up or with horses to Taktsang view point (5 hrs walk up and return).Taktsang monastery(ruin) perches 800 meters above the Paro valley. After lunch visit the Ta - Dzong (national museum). Evening drive to Thimphu and o/n in Hotel River View.

Day 03:
Fullday s/seeing of Thimphu, visit the memorial chorten, Tashicho Dzong, National Library, Handicraft emporium, painting school. O/n in Hotel River View.

Day 04:
Drive Thimphu – Wangdiphodrang(70 k.m, 3 hrs), via Dochula pass(3050 meters). The road is all down hill and you will notice the change in vegetation. Check into Kichu Resort, Wangdue and after lunch visit Punakha Dzong and town.

Day 05:
Wangdi to Tongsa via Gangtay. Tongsa Dzong is the most impressive Dzong of Bhutan. It used to be the old gateway between the east and west. The Dzong built in 1647 is a masterpiece in architecture that includes countless courtyards, passageways and corridors, in addition to the 23 temples inside the Dzong. O/n in Norling Lodge.

Day 06:
Morning drive to Bumthang (68 km 2.5 hrs) On arival commence s/seeing of Bumthang Valley. Bumthang is especially dotted with the religious relics left by the famous Guru Rinpoche, and his re incarnation Terton Pemalingpa who is known to have found the scared Treasures or Buddhist Texts after diving into a lake (Mebartsho lake / pool ) with a lighted lamp on his head among the many sight seeing places are the Jakar Dzong, the Dzong founded by a white bird; the Jambe and Tamshing Lhakhang, two of the oldest temples dating to the 7th century in Bhutan, Kurje Lhakhang. Overnight Karma Tobden guest house.

Day 07:
Bumthang - Ura – Bumthang. Excursion to the village of Ura and return drive back to Bumthang. Overnight in Karma Tobden Guest House.

Day 08:
Drive Bumthang – Wangdiphodrang (6 hrs drive).

Day 09:
Wangdi - Paro via Thimphu for shopping. O/n in Kichu Resort.

Day 10:
Transfer to 'Airport for departure.