NEPAL
1. Overview of Nepal

2. Map & images of Nepal

3. Nepalese websites

4. Highest Mountain Peaks in Nepal

5. Panoramic View of Kathmandu Valley

6. Video Clip of a Nepali Song

7. Travel Guide to Nepal

- Maoist Affected Areas

- Map Annapurna Region

- Map Everest Region

- Map Makalu Region

- Map Langtang Region

- Map Manaslu Region


KAVITAHARU
View few of my poems
written in Nepali language
ARTICLES
Articles on
crime prevention
investigation
& crime control
COOL LINKS
Computer
Travel & Tour
Police World
Downloads
Personality Test
Nepal News
Crime & Police News
Nepali Music
Health
Horoscope
Monthly Poll
Other
JAVASCRIPT
As I have learned as a beginner
ADD EMAIL
Search or add email to the search list.
GUESTBOOK
View to find out what other visitors have to say about this web site.
KURAKANI
Are you interested to chat? Go to Kurakani room.
FREE E-CARDS
Enormous free E-Cards of your choice. Send it to your friend and family members.
FREE SITE SUBMIT
Submit your web site to the major search engines here.
ABOUT ME
Click here to find out about me and view few of my photographs.
Map of Nepal : Everest & Rolwaling
Trekking Region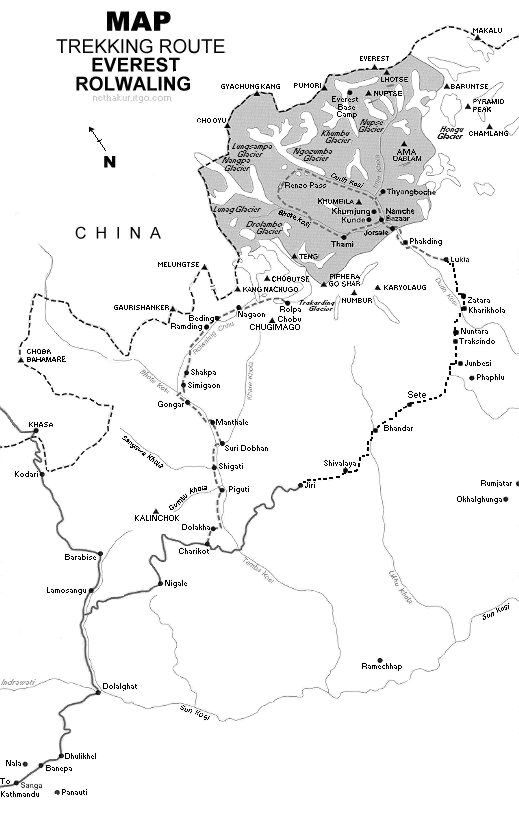 MOUNT EVEREST(8,850 m)- Sagarmatha as called by Nepali, is the highest peak in the world situated in the north of Solukhumbu district of Nepal.
General Trekking Breakdown

EVEREST BASE CAMP-- Flight to Lukla and trek to Phakding- Phakding to Namche Bazzar- Namche Bazzar to Tangboche- Tangboche to Dhingboche- Dhingboche to Lobuche- Lobhuche to Everest base camp- base camp to Lobhuche- Lobhuche to Dhingboche- Dhingboche to Tangboche- Tangboche to Namchebazzar- Namche Bazzar to Khumurung Village- Kamrung Village- Namche Bazzar - Namche Bazzar to Lukla- Lukla to Kathmandu

EVEREST BASE CAMP FROM JIRI-- Kathmandu to Jiri By bus- Jiri to Shivalaya- Shivalaya to Bhandar- Bhandar to Sete- Sete to Junbesi- Junbesi Rest Day- Junbesi to Nuntala- Nuntala to Kharikhola- Kharikhola to Puiyan- Puiyan to Phakding- Phakding to Lukla- Lukla to Kathmandu by flight